Summer is here, you'll be outside, perhaps vacationing, taking trips, spending time with family, and doing all kinds of fun stuff. This may get you thinking that maybe it would be a good idea to take pictures with something more than your cellphone. Heck, after all, you want to capture memories, and a cellphone, while OK, only goes so far. I've seen good pictures taken with a cellphone, and if all you're doing is sharing on Facebook or Instagram and anyone viewing the pictures will only use a cellphone to see your pictures, then the phone may be the way to go. But you will miss out on capturing quality memories for generations to come.
Today the market is saturated with great cameras at price points that are well within reach of most consumers. The bad news though is, well, the market is saturated with great cameras. It's both a blessing and a curse. But not to worry, it boils down to just a few simple choices from my perspective.
I get asked often what kind of camera is the best. My answer: It depends on what you'll use it for. But to make it easy, I see cameras (not phones) falling into three categories for most shutter bugs. Bearing in mind that I'm a Nikon kind of guy (Canon has similar models too), below are my recommendations. Can you find a cheaper camera? Sure, but don't waste your money, as anything cheaper than these are likely just as good as your cellphone's camera. And what about all those other brands like Sony, Pentax, etc.? Nikon and Canon rule the market. If you ever want to expand, you can find tons more lenses and gear for these two titans compared to the others on the market.
With this in mind, here are my recommendations that will get you to the next level from your old point and shoot and/or cellphone cam:
Low Cost, $500: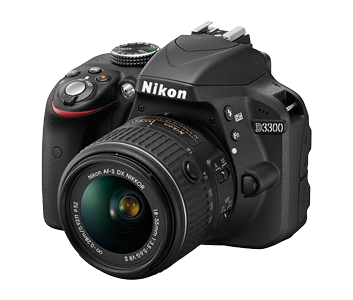 The D3300 is the lowest priced DSLR I'd recommend. It comes with a simple but OK lens and runs about $500. This camera has what's known as a 3/4 sized sensor, a format Nikon calls DX. When you see cameras under $2000 that come with a lens, you can pretty much count on them being this 3/4 sized format. It's an inexpensive way to enter into the DSLR world with enough quality to shoot most of what many consumers need (good enough to enlarge pictures to 11x14 at decent quality, and good for smaller sized prints).
Note that DSLRs don't normally come with a lens, but this one usually does, like this one on Amazon. In this case, your camera comes with what's known as a "kit" lens. It's a good bargain, and if you don't know anything about lenses and didn't even know about kit lenses, then this is the camera (and lens) for you. You still get the flexibility to change lenses (if you ever buy better or different lenses), but this comes ready to use right out of the box.
Mid Range, $750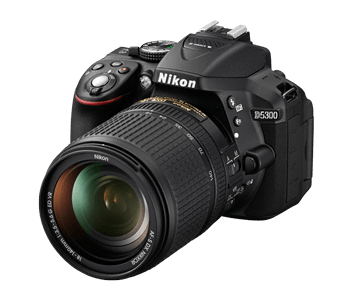 The D5300 is, in my opinion, the next step up. When purchased with the 18-55mm kit lens (like I mentioned above for the D3300), this will run you about $750. Both the D5300 and D3300 have 24 megapixels, and they have most of the same features and picture quality. There are though more video options with the D5300, which also has a better and bigger viewing monitor on its back, which is also nice when shooting video. The D5300 also has more in-camera effects. And the D5300 has more focus points as well.
If you didn't quite understand all of those extra features, then don't bother with this; instead opt for the D3300. You won't sacrifice quality, just bells and whistles.
Below is a shot taken with the D5300's predecessor (the D5100):
These are my two recommendations for the 3/4 sized sensor cameras (what Nikon calls DX). The next step up brings you into the realm of pro cameras, but at an affordable cost point for what you get. The next step up is the full-frame sensor category, what Nikon calls FX. To simplify the difference between shooting with a 3/4 size or full-frame camera, think about what size you'll enlarge your pictures to. If you are going for something bigger than say an 11x14, then you should really consider my next recommendation.
Upper End, $2000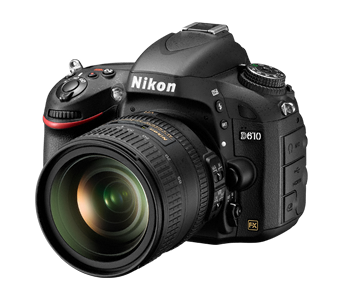 The D610 is when things start to get serious. I actually use a couple of these in many of my photoshoots. The jump in price may have you a bit wide-eyed, but the quality and features go way beyond the 3/4 sized sensor cameras I talked about above. At $2000, you can get this with a similar kit lens like the other cameras above, but since this is a full-frame camera, the lens is bigger, more rugged, and like the camera itself, higher quality as well.
Moving into the full-frame world of DSLRs you will have a world of possibilities open to you. The D610, like the other cameras above, has 24 megapixels. The difference though is its sensor is much larger, and thus captures much, much, much more detail. In fact, you'll be able to easily blow-up prints to 3' wide at high resolution with this camera. The amount of detail is stunning, as is the quality of the pictures.
This camera is riddled with features, far too many to mention here. But if you want to capture amazing landscapes, sunsets, and high quality portraits you want to enlarge, then step on over to the full-frame world. I love this camera, and use it a ton in so much of my work. BUT...I don't use the kit lens that comes with this camera. Instead, I have about $5000 in other lenses I use, but of course people are paying me to shoot them, so I can justify the cost.
I will recommend though one more alternative for the full-frame camera, a D610 body with the 24-120mm f/4 Nikon lens. Combined, it will run about $2700, but you will have a highly versatile camera and lens that you can use for many years to come. I've actually used this setup for some photoshoots where I need a do-all lens. Here is a shot using this setup:
This photo, shot at a high ISO (which would normally degrade quality) is sharp and vibrant, rich with color. Best of all though, this can easily be enlarged to about 3' with no loss in quality. This setup, too, can get you started on the road to being a pro, or taking pro-like pictures. If you ever thought that you'd like to have a camera for something more than simple family pics or hobby photos, then I'd recommend the D610. You can always buy higher end lenses later if you decide to up your photog skill-level.
For instance, when paired with Nikon's 50mm f/1.8 prime lens, which runs less than $300, you can get stunning photos like this one I shot using the D610 and that 50mm lens:
Granted, I also used another $800 in lighting gear for this shot, but you get the idea...tack sharp, extremely vibrant, tons of detail, and easily enlarged to 3' wide.
The camera market is so highly saturated that selecting a camera can be daunting, and a task riddled with choice-anxiety. I find though that there are just a few simple choices that can help you narrow down a DSLR that may be good for you. I hope you find this information useful, and that you start capturing more than just pictures, but images, art, and memories that last a lifetime...and beyond.
And don't forget to follow me on Facebook to stay updated on offers, tips, tricks, and other fun photo stuff.